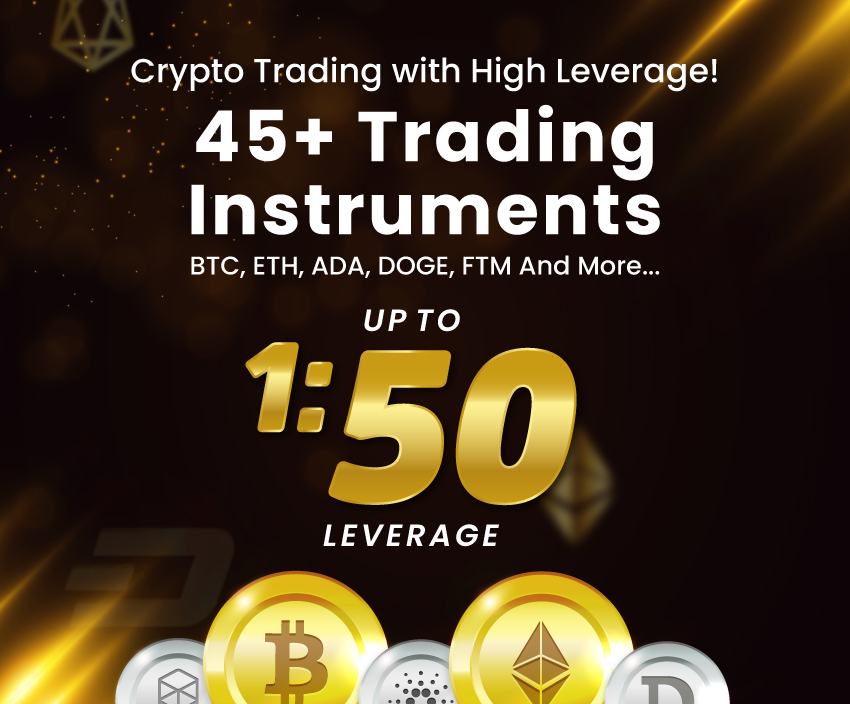 Crypto Perpetual
Crypto Trading with High Leverage!
45+ Trading
Instruments
BTC, ETH, ADA, DOGE, FTM And More…
START NOW
Advantages of Crypto Perpetual
Access to over 45 trading instruments
Industry leading crypto leverage
(Up to 1:50)
Competitive spreads
24/7 trading opportunities
High liquidity
Dedicated customer support
Trade on MetaTrader 4
Seize the Crypto Market with CDO Markets' High Leverage
CDO Markets is your gateway to the world of Leveraged Crypto trading.
We're thrilled to introduce a captivating selection of new instruments that everyone's been eagerly waiting for.
At CDO Markets, you can now experience the world of Cryptocurrency trading with high leverage around the clock.
These are the symbols traders adore, and they're now available for you to seize trading opportunities.
*Please take note that daily interest is applied to crypto perpetual instruments at intervals of every 8 hours.
**Additionally, high leverage is applied to accounts with a size of up to $10,000, and accounts above this threshold will have half of the available leverage applied.
New Products
CDO Markets is entering a new era with new products!
Let's say you love forex trading with cryptocurrencies but you also want to trade them as CFD's with no expiry date. We would like to introduce you to Crypto Perpetual Contracts.
You can trade lots of Crypto perpetuals including BTCUSDT, ETHUSDT, XRPUSDT, SHIB1000USDT, DOGEUSDT & SOLUSDT.
So What are Perpetual Contracts?
Perpetual contracts, similar to a futures contract, allow a person to sell or buy an asset at a specified price on a predetermined date. Perpetual contracts differ from forward contracts in that they can be held indefinitely or traded.
Crypto Perpetual Contracts features.
There is no expiration date. Unlike futures, delivery times do not need to be tracked.
The quotes of the contracts are priced in USDT.
Long or short funding rates are paid out every eight hours, with differences of spot rights. This prevents permanent deviations in prices.
With our new products, we offer you more than 50 options with the highest trading volume in the crypto band, along with commodities, parities and metals.
Enjoy forex trading on crypto perpetual contracts with CDO Markets!